Censer Incense Burner
US $820.00
Made to order. Please allow 2-4 weeks for shipping.
It's an incense burner. It's a candle holder. It's functional décor that does not disappoint. When used as the former, the geometric brass censer can accommodate up to three incense sticks. When used as the later, a small tealight props up perfectly in the middle. Pop on the porcelain dome and wait for the aromatic smoke to drift out from the top, or a gentle glow to radiate from the flickering flame. Instant mood setter.
Brass & unglazed porcelain
6"x10"
Made in USA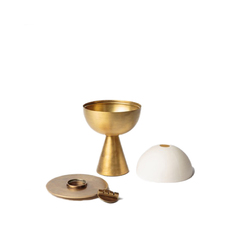 Censer Incense Burner
Fit & Care
A beautiful sculpture with a purpose.