Cool Cotton Weighted Blanket, 15 lbs.
US $169.00
Ready to ship in 2-3 business days.
Like a comforting hug, this fifteen-pound weighted blanket is designed to simulate the effects of deep-pressure touch, which has been shown to soothe the nervous system and help you unwind (side effects include: sleeping like a baby). It's made from super soft, breathable cotton—meaning it's cool enough to use year-round—and filled with glass microbeads that stay evenly distributed, thanks to genius double-quilting.
Sized to top a queen bed with no overhang
Ideal for side sleepers
60" x80"
Equal to the size of the top of a queen size mattress.
100% cool cotton outer layer, glass microbead fill, and low profile polyester liner
Choosing a weight is a personal decision! But as a general guide, we suggest choosing a blanket that is 8 to 12 percent of your body weight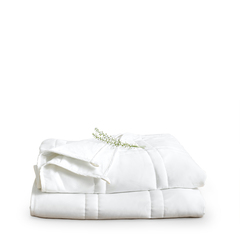 Cool Cotton Weighted Blanket, 15 lbs.